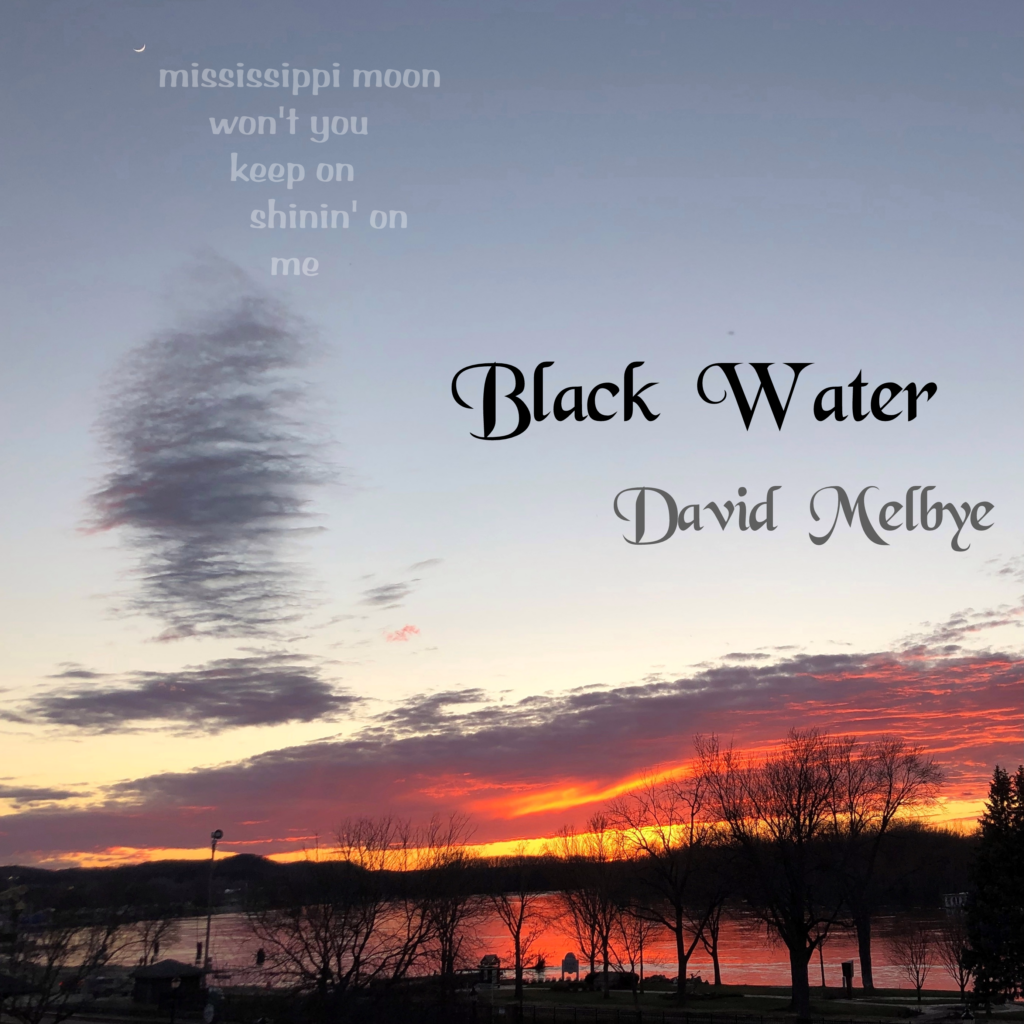 …won't you keep on shinin' on me…
Ah…Black Water…have you not just LOVED this song since you first heard it, and all the innumerable times since?!  I certainly have.  Thank you, Patrick Simmons, for writing this brilliant piece!  Thanks also to producer Ted Templeman and to The Doobie Brothers for realizing such a classic, the band's first number one hit!
I have just released my own arrangement of Black Water which you may hear by clicking on any of the streaming services you see on the upper right of this page (or at the bottom of the page if you are viewing this on your phone.)
If you are feeling generous and wish to purchase digitally (thank you!), click on –
the Apple Music icon, then click on the song, then click on the red link to Itunes (which says
Also available in the Itunes Store),
or click on –
the Amazon Music icon, then click on the song, then click on Purchase Options.
A little background:
I first started presenting on my use of the Reverie Harp* at music therapy conferences in 2012.  Since then, I have dreamed of recording Black Water with four of these harps, each tuned differently, in order to capture the various chord changes in the song, and to produce what I knew would be a unique rendition.  I finally began this project in early 2022 with a lead vocal and my Reverie Harp tuned in three different ways.  As I went along, I was inspired to add more and more instruments and voices until it became the creation you will hear.  I hope you DIG IT.  It's NUTS!  (In a good way of course.)
I am indebted to my friends and Bellinghome School of Music guitar students: Adam Tews for a great recording of the vocals; and Ellie Wolverton for her astute mixing and mastering of the song.  I could not have done it without you both and am so grateful!
I provided the numerous instruments and voices, a tally of which follows:
Eighteen instrumental tracks, including:
Three tracks of Reverie Harp in different tunings (G minor 7 – C; Ab major 7; G – D minor 7)
Three tracks of Belarus Harp
Two tracks of Floor Harp (providing the Bass notes)
A Bicycle Bell
A Cathedral Drum (sounds a bit like a soft gong)
(stomping on) Plywood Floorboards in "The Shop"
A Muted Bari Uke, "chucking" along with the stomped-on floorboards
A Native American Flute
A Tingsha
A Tambourine
Sampled Hand Claps (by Leah, who lives inside GarageBand – thank you – whoever you are!)
Wind Chimes
And a Swedish Door Harp (the Swedes take it home at the end of the song!)
And Ten vocal tracks, including:
The Lead Voice
High and Bass voices (singing "by the hand…" etc. in octaves in the song's later a cappella section)
Three harmony voices (singing "O Black Water, keep on rolling" earlier in the song as well as "hand" and "pretty mama" in the a cappella section)
Three more harmony voices (singing "I wanna honky tonk…" etc. in the a cappella section)
And one last voice wailing "Come on baby!"  You know I couldn't leave that out!
I hope you enjoy.  And thank you!
*The Reverie Harp is made by a wonderful small business in Stillwater, Minnesota called Musicmakers.  Visit their website to see the many unique, cool, and beautiful instruments they make.
Also visit the Music Therapy Presentations page of my website (and scroll down) to view my various past presentations as well as a video demonstration of my use of the Reverie Harp in Lullaby tuning.