A loving tribute from a grandson to his late grandfather: a moving collection of sacred vocal music (some of which is sung in Swedish) along with several meditative organ compositions.
In My Grandfather's Day: The Music of Gerhard Theodore Alexis
Invocation (0:53)
Utransaka mig, min Gud (Search Me, O God) (1:51)
We Plow the Fields, and Scatter (2:01)
Christ the Saviour is Born Today (1:18)
Hark! the Sound of Holy Voices (2:25)
Saviour, for the Little One (1:29)
Han är uppstånden (He is Risen) (1:11)
Andante Pastorale (2:31)
O Lamb of God (1:38)
I Think when I Read that Sweet Story (2:23)
Herren's nåd (God's Grace) (1:33)
When Jesus Comes in Glory (2:17)
Supplication (3:16)
Rock of Ages (3:44)
Thou Hidden Love of God, Whose Height (1:48)
Sångaren's Aftonbön (The Singer's Evening Prayer) (2:18)
Vesper Hymn (2:07)
Lovsång (Song of Praise) (1:43)
Vill du gå med till Himlen (Will You Go to Heaven) (1:22)
Another Day is at its Close (2:02)
Father in Heaven (0:36)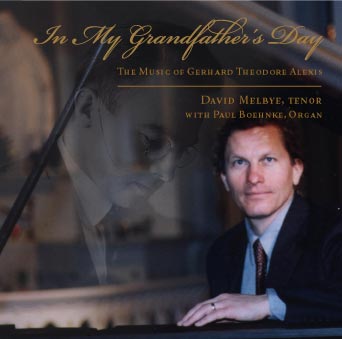 Click here to learn more about Gerhard Theodore Alexis
To hear this CD and to purchase digitally or as a hard copy, please visit my Bandcamp.com page.